Playlist

So in this forest grove they bid me dwell,
Under oak trees in this deathly barrow,
Old is this feeling, all I do is yearn,
The dales are dark and overgrown with briars.
Joyless is this place, full often here,
The absence of my kin, falls sharply on my soul!
Dear lovers in the world still they lie content,
While I alone, at break of dawn must walk!
Under oak trees round this earthly cave,
I remain the length of summer days,
Where I weep my many hardships,
Contrive to rest my careworn heart.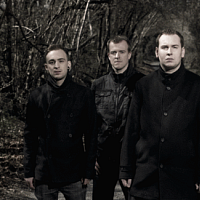 All my loves are fatally outcast,
Far off in some distant land,
Frozen by storms and under stony cliffs,
In desolate realms near torrid seas!
My weary heart must suffer all,
And call to mind a stronger time,
Grief must always be my friend,
Of she who mourns for her beloved.