Baby, let's dance now
Bring all your friends, now
I got the juice too, don't need your pants now
Baby, let's dance now
Bring all your friends, now
Don't tell your parents though, you don't gotta let 'em know
This ain't my home, this ain't my planet
When I was ten, I was abandoned
I hate my skin, I cannot stand it
We don't look the same, I don't understand it
I can't feel no pain, I'm numb to the sadness
Can't smile for no photos, It's weird if not candid
My only true friend, the big-eared bandit
Stop, stop, I wanna go home
What? What do you mean you wanna go home dude?
The party literally just started
I know, I know, I know, I'm sorry
I just feel like puking and I miss- I miss my planet
Fine, okay, yeah whatever, I got my mom's Tesla so it's fine
Where do you live? Planet Nebula?
No, no, I don't know where I live
What?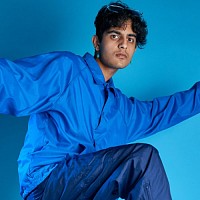 I'm having a shitty day, I'm having a shitty life
Go to work, and don't be gay
Have some kids, and get a wife
I cannot stand this shit, do you understand my pain?
Life's making me its bitch, and every day feels the same
I'm a psycho in a cycle
It's a tide, I need a bike so I can ride to my old dyke hoe
That live out, right by the gieco
I'm alright though, need a Nyquil
Can't sleep, it's bad like Michael
I just might go crazy, hyper
Fuck my life, it's all so high-low
Baby, let's dance now
Bring all your friends, now
I got the juice too, don't need your pants now
Baby, let's dance now
Bring all your friends, now
Don't tell your parents though, you don't gotta let 'em know