The True Beginning: Standing as One
- text

Playlist

We pray, we try
Everywhere we lose the time
So close, so blind
We bring our useless eyes!
To find a new belief
Another clime
Remove the veil
It's not too late
Open your eyes to exit the maze
I'll show the wall, I'll pull out your rage!
A new wind will start from this stage
It will grow up with your breath, once again!
I have not the truth, I found just a way
Made of trust, sharing and rage
Everyone protecting the next, together...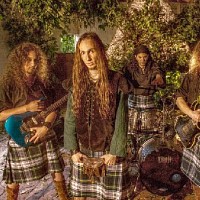 Standing as one, we trace our path
As the Guardians we march!
Standing as one in this fight
A new season will come!
Standing as one, we choose our life
On a rock they will crush!
Standing as one in this fight
A new season will come!
Remind! The chain
Is our mind, it's our blame!
And clear, the haze
Remove the sparkling...
Light! Again
In your heart and everywhere
Decide your life
Just by yourself!
Without a while you start to love your prison
But I'm sure your hearts know
Now I go, not alone, Guardians we are
The reflection on the mirror took its place!
There's no sky with no clouds
And no sea without a wave
I feel a wind of change is come...
Take off the mask!
What is the price that you give to your life?
A future to build or a fleeing wasted time...
I looked far away for a new spark of fire
And I could not feel the raise blaze inside!
Now is the day, and the Guardians have come!
All at your side, at your side right now!
Now is the day, and the Guardians we are!
For what we still love, scared no more!
We are not afraid to fight and...
Sometimes it's very hard
The wish to come back, come!
We can't decide our fate...
But how to use the time allowed...
Time! All fade away!
The time, alone don't bring the change!
Time! Time! It will not wait!
The time
Reveals your destiny!!!
The road you search is just all beneath you!
Step by step, the march for change will start!
No regrets, no more empty compromise
I will scream all those forgotten lines!
No regrets, no more empty advice
I'm not afraid to die