Playlist

Blackend pools, obscured designs inside your mind.
On every breath, another lie to hide and blind.
The sight of those you'd name your closest friends.
Behind those eyes lies a maze that has no end.
Every smile cloaks your obscene face.
A vile form, a beast displaced.
Deep inside you... rotted soul.
Lies dreams and sights that take a gruesome toll.
You know the truth, yet even now you scoff and lie.
These sins will haunt your wretched soul until you die.
Ruined lives, what you've left in your awful wake.
Your twisted arts wrought a thing foul and fake.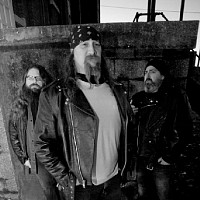 Every smile cloaks your obscene face.
Your vile form a living disgrace.
Deep inside your rotted soul.
Lie dreams and sights, hidden far below.
In the Liars eyes the face of fear.
On the Liars tongue a sadist song.
In the Liars heart a blackend pool.
In the Liars mind a tale to be told.
Every smile cracked with rotten teeth.
Subhuman touch belies the fiend beneath.
Inside is nothing a shameless void.
You don't care about all you've destroyed.