I am a legionary - WE ARE THE LEGION
You are a legionary - AND I'M HERE!
We are legionaries - WE ARE THE LEGION
We are the legion of TARCHON FIST
We are the legion of TARCHON FIST
(We play it loud, loud, loud, loud, loud...EH!)
A maniple of souls waving high a T-flag
Modern legion of an heavy metal band
Growin' every day howlin' high with eyes of wolf
We're screamin' you're welcome to our world
No matter where you come frorn, who you are and where you go
That's the kind of legion of no more walls
Raise our fist together, take us to the metal throne
We'll carve a T with fire in your heart of stone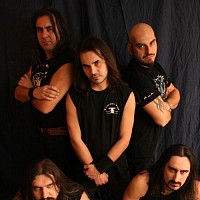 Shout at the night, loud and proud, we're all ready to fight
Lights, killer sound, Tarchon Fist breakin' to the ground!
I am a legionary - WE ARE THE LEGION
You are a legionary - AND I'M HERE!
We are legionaries - WE ARE THE LEGION
We are the legion of TARCHON FIST
We are the legion of TARCHON FIST
A black fever we have, in metal it burns, bad mania for us all
The axe in the air, the hammer that throbs, the thunder
resoundin OUT LOUD!!
The howl in the night, new gig and new fight, legions hold us high
Metal detected, Tarchon's expected, STORM HAS COME!
Blood, sweat and full belief in what we do
Showing what we are never deceivin' you
The legion is a gift of brotherhood
Like ancient pirates we'll ship together through the flood
Blessed by the rain, in our veins, blood is black like metal
Take a deep breath, bawl with us... TARCHON FIST
Forever!
I am a legionary - WE ARE THE LEGION
You are a legionary - AND I'M HERE!
We are legionaries - WE ARE THE LEGION
We are the legion of TARCHON FIST