Playlist

Prayer, can you tell me
Why am I here?
You speaker
You're God's gift
Can you tell me
Can you tell me?
I'm roaming through this darkness
Some secrets won't be unveiled
We will never know
No, we will never know
Life's just a lie
Life is just a lie
I don't know where to go
And I will never know
Why I feel so forsaken?
Your singing's like a flame
The flame in which I'll burn
Your three faces
Your endless chances
Show me your wise three faces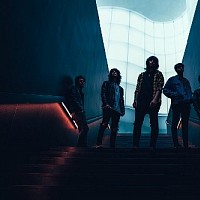 There's a war, there's a war inside of me
As this empty can't be filled up
As my thirst can't ever be satisfied
It's like I'm paralyzed
I'm so weak I'm so lost
Take my hand and please now show me the sign
Life's just a lie, just a lie
Life's just a lie told by death
To make me feel safe
To make me forget
To make me forgive God
God's everywhere, but surely not here
Who will save me now?
Tell me, have I lost my faith?
'cause I don't I see
I will never see where's the truth
I will never know, I will never know
So please tell me, have I lost my faith?
'cause I don't I see
I will never see where's the truth
I will never know
No, I will never know
I don't know where to go
And I will never know
Why I feel so forsaken?
Your singing's like a flame
The flame in which I'll burn
Your three faces
Show me your wise three faces