Calm Before the Storm
- text

Playlist

All alone I wake to find
The world is no different, nor am I
The sun still spreads its rays of light
The sky is still blue, the clouds - still white.
Not today but soon my friend
The bombs will drop, the war will begin.
Every night I lie awake in bed
And pray that the morning sun will rise again.
When dark clouds of smoke fill the air
Feel my breathing is impaired
Winds that sting and burn my eyes
No longer can I last it's time to die.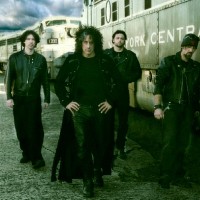 Born into darkness
No more daytime only night
No hope for tomorrow
Your sun has burned out of sight
It's always calm before the storm . . .