Playlist

As I walk through the shallows of my distant mind
I see the forms of faces I had long forgot
They search and reach, though their secrets I will keep
Despair, oh my child. Everything that we've worked for is gone.
And I'll keep running away, pulling away,
Facing the days that don't seem to end.
How can I make amends? Break yourself. Do it again, then you begin.
It doesn't seem to end, a hollow sense of self takes, its root within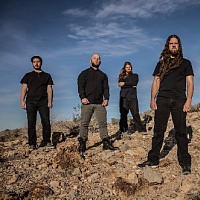 Crush the stone in your hand until it bleeds
All of the pain that you've felt now isn't real, it never was
Only age and disillusion remain
I face it all the same
I'll face the endless days
Collect my weary bones
And touch my fragile skin
Making it new again
In this world, as disillusion incarnate
As this place, grows smaller every day
In this world, I feel no presence with me
To escape, I'd give it all away
Crush the stone in your hand until it bleeds
All of the pain that you've felt now isn't real and it never was
Only age and disillusion remain
The hollow thoughts prevail
If there's only one thing I promise
It's that you'll turn back
And leave this place like a ghost
Forever turned away
I'll face the endless days