Playlist

The final punishment, is here to balance out our sins, the four horsemen have come.
Riding on the steed of the apocalypse, plague and fear awaits the earth of men
Famine, plague, disease and death will consume this race, the horse's gallop through the skies.
The demons show no mercy and just kill on instinct. Nothing will be left in tact.
Antichrist Conquers
War begins to rage
Your life is, mine now, behold, another day of darkness
Souls recurring around me for, another day of darkness
Four Horsemen arrive now to see, another day of darkness
Time will end now and fulfilled is, the final day of darkness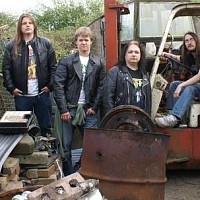 War begins to rage, as the daemons appears, the arms race begins to build again
Famine hits the soldiers, as they start to march to war, starvation hits them like speeding train
Coughing, sneezing, boils and sores become a common sight; the symptoms of the Black Death reappear.
Followed by the final daemon on the black horse. Death hits every living thing
Famine Rules the earth
And Death it lies in wait
Your life is, mine now, behold, another day of darkness
Souls recurring around me for, another day of darkness
Four Horsemen arrive now to see, another day of darkness
Time will end now and fulfilled is, the final day of darkness
Antichrist Conquers
War begins to rage
Famine Rules the earth
And Death it lies in wait
Your life is, mine now, behold, another day of darkness
Souls recurring around me for, another day of darkness
Four Horsemen arrive now to see, another day of darkness
Time will end now and fulfilled is, the final day of darkness