[Spoken:]
Yeah
Well
Nas got me on some sh*t on this one right here man
Yours Truly
Yeah
Yeah
These are confessions of a sinner
I picked a bag and left a letter cus my temper seems
to get to me some times
I get sick of me sometimes
Pressure from myself is my biggest enemy sometimes
But, I hated myself cus of you
But now I'm done with that
That's why I'm hopin' on this train & never comin' back
And I refuse to let anyone in my way
I ain't tryna leave you behind,
But I just can't stay
Yeah I just can't stay [x2]
I just can't stay,
So will I keep running away
Keep running away (keep runnin')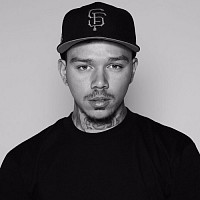 I hope you get to read my letter
I signed it "Sincerely Yours"
You've been hurt too many times
I see them tears of yours,
Running down your face like Yosemite Falls
But if you ever need something
Just don't get me involved
Cus I, I gotta move on with my life
And we all got a chose
We all can speak, but not all of us got a voice
So I devote mine to the children of today
But how I'm suppose to move on, when you keep begging me to stay
Well we must of lost a passion
See my mother used to love you
Ion what happened
Probably cus you changed
And she don't like the way the come off for
I guess the connection just must of cut off
Like an unpaid bill to Version
Over the hills, horizon
The sun is settin' I could feel it inside me
That I ain't got nowhere else to go
But I keep on pushin'
Don't want to leave
But I ain't felt this low
So I can't (stay)
Yeah I just can't stay [x3]
So will I keep runnin' away (keep runnin' away)
See I missed the way we used to be
I miss the way you touched my heart
Used to be true to me, but
Now you let these nigga walk all over you
They don't treat your name with respect
And they talk right over you
Kills me every time I hear it
Slowly losing my spirit, they sabotaging your beauty, they desecrate your appearance
And. They say I'm scared that's why I'm runnin away
I guess they right,
Cus we all know what just might happen to me if I (stay)
I wanna leave but I'm lost without you
And I can't stand the way these mothetfuckers talk about you
They say you just care for the
Money and jewels, the cars, the clothes, the fame,
& the popular dudes, glamorization the money, & livin' in glory
It just seems like you forgot about the kids with a story
But without you I wouldn't survive one more day
You saved my life
Dear Hip-Hop, I'll never leave. I'm here to stay!