Escape... Closed Present
- text

Playlist

Let me open the gates of consciousness,
(You live in a world of illusion)
so take my hand to share the truth.
Darkness invites me, what can I do?
(All my mind is blind, no escape appears me)
I'm so lost, prisoner of my body.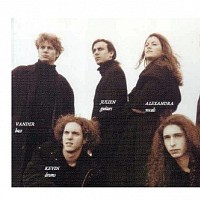 My gift grab to his soul, there is no way out
but feel this state of ecstasy.
Forgotten time is the time of reminds.
Closed present, the future will never be.
(Let me open you the gates)
And for tomorrow, enter to eternity.
I'll be the forever, follow the path I drew to you.
The path is so far, so far.
Did it never exist? Everything is ruined.
I feel so alone, so alone, don't look behind.
Lost in a crowded picture, love me like a dream,
now you're mine.
Like an angel without wings,
haunting oceans of darkness,
I try to find a reason to live,
how can you leave this world
of lies, cruelty, and violence?
I heard your screams from your loneliness.
Come to me and see your real dimension.
Accept my immortality, ignore your common fatality.