MMatt Skiba and the Sekrets
- texty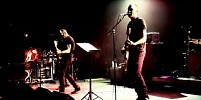 A trooper, a vagabond, a minstrel and an artist - over the course of fifteen years and eight full-length albums as the lead singer/songwriter for Chicago's Alkaline Trio, Matt Skiba has been all of these things. Touring the world, heart on sleeve, Skiba has consistently penned some of the great dark pop anthems of the past decade. For both major labels and indies, whether it be acoustic ballads or antagonistic anthems, Skiba is an icon of the outsider and he has remained a singular voice of a sub-genre he helped to create. Now, after so many years as part of the band that has come to define him, Skiba has stepped out from the Trio to create Babylon, the debut album from Matt Skiba and the Sekrets.
Přehrát celé album
Přehrát celé album
Správcem interpreta Matt Skiba and the Sekrets je davestejk; . Pokud objevíš, že je zde něco špatně, tak napiš správci.
Pokud chceš být také správcem, tak pošli žádost o správcovství. Texty písní, překlady a videoklipy jsou vkládány registrovanými uživateli.