It's casual
your chest lifts and falls
the beating oars of hearts,
now we are the vehicles.
what's yours?
blurry like a naked map of stars in your eyes.
It's casual
but we dress it up,
choirs of marching saints
in the long thigh waiting.
I knew it all,
but I don't know no one,
was it just on paper we were taken, taken in.
Envy turns the grass green in the spaces between the shaking and shaken.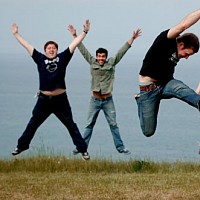 We try to shake it off
so we dance all night
we were warriors in the moonlight.
Am I right?
Was I wrong?
Do we fight, fight, fight, fight on?
Envy turns the grass green in the spaces between the shaking and shaken.(x2)