Break the Chains (Into the Black)
- text

Playlist

what is the end, and when is our time?
where do we go when the death smiles upon our head?
why do we start to live only on our deathbed
when it's too late to appreciate our desperate souls?
unleash your inner beast to the feast
break these chains of life oo-oo-oo
give yourself away and lose control
carry the force deep within your heart
all loved ones are gathered here around me
to see me pass the guardians of oblivion.
"when you fall just carry on without a doubt
together we'll stand to the end of time and far beyond…"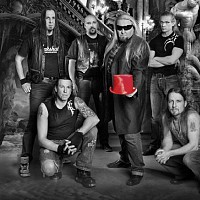 ON THE VERGE OF DARKNESS ALL YOUR DREAMS COME TRUE
AND YOUR NIGHTMARES BEGIN TO HUNT YOU
and when the light begins to fade and all seems to be gone
then the rise of a new dawn carries you into the black
when the light catches the dark, I wish for death
to collect my sorry remains
I've been here long enough, I've paid my dues
this journey never ends..
this voyage of our souls marches on, but I'm ready to go home...
unleash your inner beast to the feast
break these chains of life oo-oo-oo
give yourself away and lose control
carry the force deep within your heart