Playlist

I love the night and living fast
The rock and roll, it's my life
It's something that turns me insane!
Burning my soul every second is right
Feeling your screams, exciter comes:
It's time to black leather spit!!
Crossing the wind…
Slicing through the moon…
Straight to your heart…
All hell breaks loose…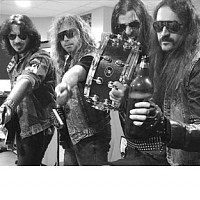 I felt the heat, trail the game
Flashing shocks, doom stone
The curse of the castle is on you!!
Breaking the seals on the morning light
Scourge of god, another cry, heading for the
Torture hall!!
Pray for your sins…
Hear the demon bell…
Take out the lord…
I'm the beast…
Taste my whip…
Allied with forces… of evil tonight…
Taste my whip…
The Sabbath is done… denying the fools…
Taste my whip…
Allied with forces… of evil tonight…
Taste my whip…
The Sabbath is done… denying the fools…
Taste my whip…
Ritual completed… crazy I feel…
Taste my whip…
Hitting my back… slaves of the pack