Karina:
Mother, what has happened to me?
I am not myself now
A male voice is speaking in me
I can not escape him!
Horatia:
Child, you are possessed!
All:
Firm as rock our covent stands -
Splendid isolation!
Here forever we shall dwell,
Sheltered from temptation!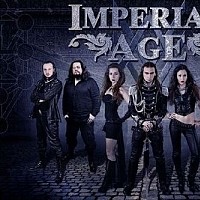 Avva Rama:
We were destroyed in the morning mist,
As a result of the Fire..
Horatia & Karina:
Demon, begone, your place is in Hell!
Fiend of ill dessire!
Horatia:
Child, I see your eyes are so red,
Your skin is pale and fragile,
Your forget to eat your bread
And spend your nights in prayer.
Karina:
Please, mother, save me!
Karina:
Now the voice speaks louder to me
Telling me tales of far lands
Horatia:
I've asked Rome to help us save thee,
The Exorcists are coming.
Both:
Cred in Deum Patrem!