A restless soul of courage
He sought the air
To dive and soar so graceful
Where only angels dare
This reckless ace, he lives to win!
On the wings of a Blackheart
Fly and fight tonight
On the wings of a Blackheart
Hero of the blazing sunlit sky
No pain or risk can stop him
His mind, it knows no fear
On his wings of death he hunts you
Behind the clouds he disappears
The o'er green fields he soars away....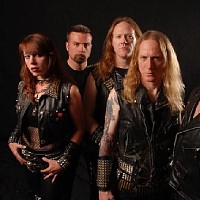 Climbing into the sun, he attacks!
Whip stall, bullets cutting right through you
Blackheart, death's head, and a handsome face
Time's up, explode and fall in flames!
Across the ocean, he journeys to the West
Swallowed by indigo unknown
The Blackheart vanishes into time
On the wings of a Blackheart
Fly and fight tonight
Hero of the blazing sunlit sky