Playlist

Voices like an unextinguished fire
craving for impious annihilation.
I see through the supreme destroyer,
leading the innocent to the edge.
Dilemma of the unchalleged law.
God as the blood-stained shepherd,
shepherd of ghosts.
Vengeance, vengeance is the word.
Litany upon thy blessed lips.
I'm on my knees under the weight of faith.
Kissed by the holy breath.
I'm the ultimate invocator.
Still I'm wandering, time and space now useless.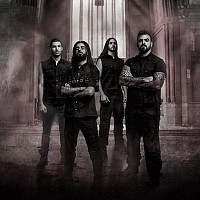 Walking through abomination.
Birthplace of a new breed
of man-made demons, desecration,
but his hand is here.
Five ways of suffering,
five paths to reprisal,
five marks of fire.
Darkest sacrifice.
Tongue of fire, sweet relief.
Shreds of Martyr, supreme desire.
Shreds of Martyr, at one with fire.
Shreds of Martyr, it's time to bleed
Shreds of Martyr, is all we see,
our urge to kill.
Nation through abomination.
Immolate the believer.
Blood-stained absolution.
Martyr, unholy shepherd. [Repeat 6x]