Funeral for a Viking
- text

Playlist

Gods of the elements
This is the season of fall
The darkness covering my vision
Blood staining the wall
(Bridge)
Day after day time seems to drain
The truest things taken by the rain!
The final battle has begun
I hope to be reminded as a brave
'Cause there's nothing beyond the ashes,
except the memory!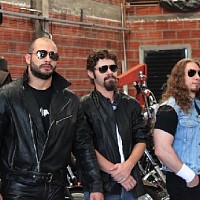 (Chorus)
Like a warrior
One battle will bring my sunset!
Ancient lore
I will return to my holy land!
Set me in my boat
And let me go
I will return to the thunder!
To my gods,
They make me ashes,
Eternal return by fire!
Gods of the elements
This is the season of fall
The darkness covering my vision
Blood staining the wall