The secret of life was found in Etherna Island, where an invincible enemy had finally been defeated, time itself! Vesna kept on fighting with her destiny, hoping to find her beloved again somewhere. She was still in the enemy's hands, but now a new hope gave her pirate the strength to believe in a future again, with the princess, prisoner of Falerim.
Stop bitch and hear my words
Face these eyes of a lion
You provoke hate and rage, but now it's time
For you to belong to me
Here is what you make me be
I am driving you fool
There's no chance to escape from your destiny
Or no other way to play your part
I wanna live all my life away from here
Only with him I may live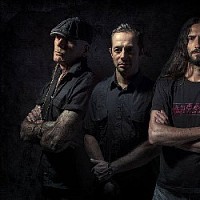 Nevermind which are your thoughts
Hear the winds of dissension
A duel is what I need now to be the one
So I will take my prize
Be my doublefaced queen
For the rest of my life
You deserve to be a slave in my land and I'm
Swearing a right fight, destiny that man
I'm gonna live forever bright
In his arms I can touch the sky
His heart is pure and he heals the bleeding wounds of my soul
I'm gonna enjoy the eternal sigh
Of the ancient people and knights
His soul has made me believe in my own war.