EEelke Kleijn
- texty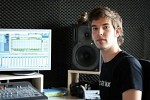 texty písní

playlist

fotky

koncerty
Eelke Kleijn is a Dutch producer and DJ hailing from Rotterdam, the Netherlands. He is known mostly for his electronic dance music, but nowadays also produces music for other media, such as television series, commercials, movie trailers and animations.


Naturally Artificial
(2007)
Video
Překlad
Karaoke
Zobrazeno
Ondine

81
Zeitgeist

64
Drama Queen

60
Přehrát celé album
Eelke Kleijn ještě nemá žádného správce. Pokud jím chceš být, tak napiš. Správce může zařazovat písně do alb a dělat tu pořádek. Texty písní, překlady a videoklipy jsou vkládány registrovanými uživateli.