Playlist

Behold the light, dividing the sky in two.
The mountains might, you'll never make it thru
To the other side.
The night so cold, you suffer from thirst and hunger.
Recall the stories told, that haunted you when you were younger.
Wolves are howling in the dark
Evil leaves unholy mark.
As scar too severe to be healed
Rebuild the soul that have been peeled.
[Chorus:] There is nowhere you can hide
On the other side
The wise man never lied
Unholy soldiers ride
Thru the forest wide
Here Where brave ones died
Like the light of day
You should have stayed away!
Behold the sky, the dawn of burning mist
As the ravens fly, a sight you cannot resist.
Evil rules your mind.
March with fear, the only way is ahead
Your final tear, to evil you are wed.
Demons crawling on your way
Ending, silently you lay
Presence of unholiness
The proof of your excess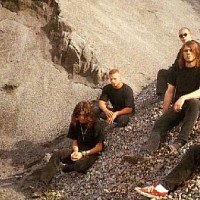 Leaving the real world behind
As you enter the one never seen
The darkness will rock you to sleep
In the cradle of evil you dream.