Try more, Baby mada mada ikeru sa
kyou toiu nano RINGU de We're All Da Fighter
taoretatte sou tachi agare yo
'Give Up' nante kotoba wa kaidoku funou sa
HEI, NANI NANI nani yo?
nani wo BIBItte n daka wakan nee
jimi ni RIPI-TO suru dake no hibi (NO) kara ni HIBI
(MO) haitten daze FURAINGU gimi
risou no KIMI ou kinou no KIMI
tashika ni oikoshita kyou no KIMI
ato ni shitoki na 'hontou no imi' nante no wa
ima wa tada No, No Limit!
tokei mo kinou mo boku ga hazusu yo
mou torawarenai de
SHY na Reaction muimi na? Station
iranai sa Just ride on the D-Groove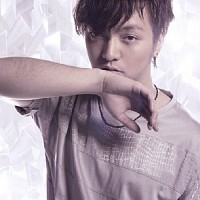 *No, No limit
shizumanai taiyou ga umareru sora no hate ni
mayonaka kugurinuke doko made mo takaku tobitate yo
Are you Ready, now?*
Cry out, Baby seijaku wo yabure
yokoshima na Cool wo nugisutete ima Shout up
MANYUARU doori no taikutsu na Answer
kurikaesu dake no hibi no yukue wo Do you know?
arimosen jijitsu arimosen kiki
aori kozeni toru SABIshii SAGIshi
tachi no kotoba wa GIMI-KU kasu na mimi
kimi ga ippo fumidasu tabi ni sekai wa katachi kaenda ze suki ni
KAMERA ga me wo hanashita hima ni kakenuke chimai na sou ikki ni
SUPI-DO wa museigen no No Limit!
machi no NOIZU nara kika nakute ii yo
jibun ni makenai dake sa
Satisfaction & Non Fiction
hoshii nara Just ride on the D-Groove
No, No limit
kagiri naku 'ashita he' fukinukeru kaze ni notte
kurenai ni somatteku atarashii yoake ni mai agare
Are you Ready, now?