Playlist

Show me something
I should die for in this world
Since I came I've seen the fear
What are we fighting
For in this world
There's more evil than love
Because you're born in this wolrd,
Pure and with love
And then you grow up, evil and corrupt
But when I see, what love's about,
I see it's important to save this world.
Together we'll fight until the end,
We'll destroy evil with pure love.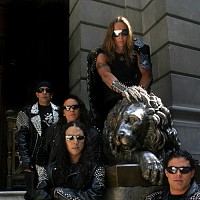 With this I see
We can save humanity and the lives
That live in here.
And then you'll see
The beauty of this world
Let's destroy evil with love.