Playlist

I never believed in a miracle
But I'm watching her by the waterfall
A punch in my teeth when I least expect it
She could never say anything wrong
But she could barely say anything at all
Right?
It's alright
Stone cold feeling
When my words don't reflect my intentions
Stare at the ceiling
What's going on in her head?
Oh, no
She's got me feeling undone
And she knows it
Miranda Beach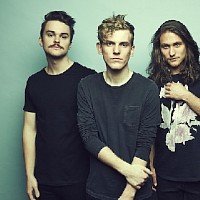 Alone in the balcony
My two left feet on the mezzanine
A tear in my chest when I least expect it
Ignored so naturally
Yet so unaware accidentally
Right?
That's alright, yeah
Oh, you're wasting all of my evening
With eyes just like a television
Oh, baby you make it look easy
What's going on in her head?
Oh, no
She's got me feeling undone
And she knows it, yeah
Oh, no
She's got me feeling undone
And she knows it
Miranda Beach