Playlist

Open the book of your thoughts
They are all already there
As in my memories
In my past
In the book of the one...
Forever...
Devilish vision of union
Is something that hurts...
And cursed we last
And so as to forget the important -
We do forget...
We forget to plunge our bodies
In ecstasy and in madness
Falsely changing our faces
For the others...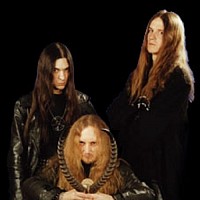 And cursed we last
And the space around us
Is real...
As my eternity be the curse
And fire in my veins
Marking symbols, spelling curses
I summon rocking hatred
To my senses
Amongst corn and semen
Born of sin
Free from chains
Like a dog... like a wolf...
You walk through the flames...
To see your own face...
Your mirror is not the reflection
That you create in your thoughts
Swim and use your powers
Swim and swear
You shall reach the pain...
You shall feel...
You shall live...