Before It's Too Late
- text

Playlist

My peace drowns in a sea of problems
Although my wounds still bleed
And the confession of my eternal suffer
Do not seek for mercy but for salvation
My fear is my assurance
My flesh is the flame
My soul's the fear
In my past I was not myself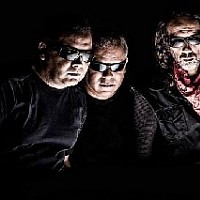 Darkness torments me
And my universe keeps bringin' on surprises
... Like death... Like life...
Just like Death
How could I be so blind
How could I take it so long
Thousands years of sufferin'
Absurd Dogmas
Names don't bother me anymore
Even without proof we all know
Even without horns, paws or tail
Narrow limits do not help
I deny my subtleness
As my so admired poise
Fade away as my past life
Names don't bother me anymore
Even without proof we all know
Even without horns, paws or tail
I can't see the difference, can you?
My subtleness denies it's existence!
Drown yourself in your sea of unhappiness
And fear your inevitable future
Don't worry with the winds but with directions
And take your first step before it's too late
Or pay the price for your commitment
Or pay your price: with your life.