Playlist

A white novice is praying alone,
Captivated with the love of a young man.
A being tormented for revealing his truth.
She ignores that he´s the fallen angel.
I'm the one who has many names
But you can call me now as you want.
My kingdom's fire and loneliness
It's the sentence of the damned ones
The sweet novice is God-fearing and
Lies on the floor without breath and life
She clutches a dagger with blood and gold
Her heart is searching for her infernal love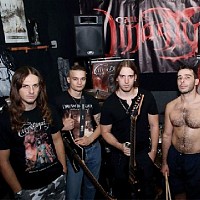 Trying to steal his beloved's soul
He unleashed a war
Facing Heaven, Hell and Earth
With his flag he defends the passion
They are punished for love
Defeated he was sent down to hell
Waiting for the moment of revenge.
Agony and loneliness...
His sweet love still cries on heaven's doors
There are no more prays for god
Will you believe in love?
The sweet novice is God-fearing and
Lies on the floor without breath and life
She clutches a dagger with blood and gold
The one that crossed her own heart and hope
Her soul is searching for her infernal love
The white novice's condemned to forget
His dark angel still fights for her
Rain on earth are the tears for them
From now and on love become a sin