Playlist

Wanting to be an instrument to build God's army,
The search began for the soldiers of Christ.
Confident in the things to come,
We started a journey to proclaim God's word.
Through all these tears,
Through all this time,
Through all this pain we've come;
But now we're back,
Now we're here,
Taking this challenge without fear.
This is now –this is the time,
A new beginning –the new chapter.
So we hit the road, going the way that we thought was right
To realize that without God's guidance
We will fail – we had to learn to handle
Our problems first.
Before we could be instruments for the risen One,
With His help were move the stumbling stones
And learn in Him
We can be strong.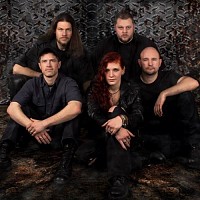 (Through all these years we've played our songs,
Still something wasn't right – always on the run
To find what we fight for.
So we're at this point right now.
What will be the next?
A new chapter is opened.
In trust we take the next step.)