Like a Never Ending Stream of Sadness
- text

Playlist

"My sadness is the storm
My tears are the rain"
Now time has come for me to go
To the place that we all know
The stars are shining in the blue sky
I'm going to die this is the final journey, the final call
Wind whispers at my face,
and with it comes the rain.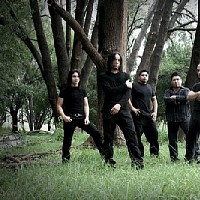 My tears are flowing,
Like neverending stream of sadness,
My sadness is the storm, my tears are the rain.
Before I die, I'll see the mountains cry,
I'll see your shadow in the haze,
I'll hear you crying in the wind,
I'll feel you breathe in the cold night.
Now I'm lying here in my coffin,
Flying in my winds of sorrow,
My heart feels cold and dark,
A crow flies singing a song of sadness.
Now time has come for me to go,
To the place that we all know,
The stars are shining in the blue sky,
I'm going to die this is the final call….
In the cold I die
In the wind I cry
In the cold I die
In the wind a cry