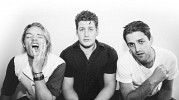 Australská indie-folkové trio založené v roce 2011 Nicem Johnstonem, Danem Wallagem a Jackem Rollinsem.

Přehrát celé album

Přehrát celé album
Správcem interpreta Sons Of The East je 4eNKa4 . Pokud objevíš, že je zde něco špatně, tak napiš správci.
Pokud chceš být také správcem, tak pošli žádost o správcovství. Texty písní, překlady a videoklipy jsou vkládány registrovanými uživateli.