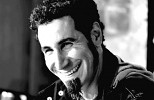 texty písní

playlist

fotky

fanklub

koncerty

zajímavosti
Serj Tankian (* 21. srpna 1967 Bejrút, Libanon) je arménsko-americký zpěvák, skladatel, básník, aktivista a multiinstrumentalista. Je znám především jako zpěvák metalové skupiny System of a Down (SOAD). V roce 2002 společně s Tomem Morellem spoluzaložili neziskovou sociálně-politickou organizaci Axis of Justice (česky Osa spravedlnosti). Během své kariéry vydal řadu, jak sólových, tak i alb se skupinou System Of A Down.
Přehrát nezařazené písně

Přehrát celé album

Přehrát celé album


| | Video | Překlad | Karaoke |
| --- | --- | --- | --- |
| Fears | | | |
Správcem interpreta Serj Tankian je SOADmalakian . Pokud objevíš, že je zde něco špatně, tak napiš správci.
Pokud chceš být také správcem, tak pošli žádost o správcovství. Texty písní, překlady a videoklipy jsou vkládány registrovanými uživateli.